Rotaract Invocation
" O God ! our Almighty Father and ruler of the Universe,
We thank thee for the inspiration you have given us for the
Rotaract Movement based upon Service to mankind.
We humbly beg you to continue thy grace to enable us to do
our service to ourselves and to our neighbors and to the
honor and glory of holy name "

R.I President's Message
I send my best wishes as you celebrate "Back to Tradition" this Rotary year. Rotaract is an amazing program, full of young adults who want to reduce suffering in this world through Rotary's goals and ideals.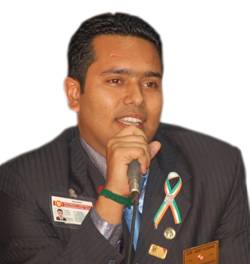 Mr. Amit District Rotract Represntative
Dear fellow rotaractors
Warm greeting for new rotary year 2009-2010
It gives me great pleasure to presenting this district directory 2009-10 which give energetic power to youth in the part of active youth ;
We are always willing is take up new challenges and combine youth to save alert and them for new era.
Our district governor Rtn k.c kalra has given me chance and opportunity on rotaract movement in this rotary year,
Its my pleasure to serve you I will obey my best to fulfill my and your dreams about "active youth" wish you all the best,
Regards
Rtr Amit kumar
+91-98158-88368